---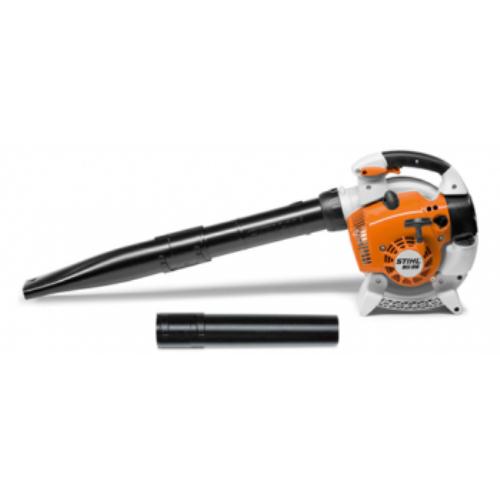 Packed with power and run by a fuel efficient low emissions engine, the new top-of-the-line BG 86 C-E handheld debris and leaf blower has comfort features professionals will appreciate. Not only is this blower easy to start— thanks to the STIHL ErgoStart system; it's also fitted with our four-spring anti-vibration system and soft grip handles to help reduce operator fatigue. Vacuum adapter kit available as an accessory to convert the BG 86 C-E blower into a vacuum shredder.
Reduced-emission engine technology 2-stroke engine with stratified charge. A fuel-free layer of air is created between the burned charge in the combustion chamber and the fresh charge in the crankcase, reducing the amount of fuel lost during the charge cycle. This results in more power with a lower weight, up to 20% lower fuel consumption than regular 2-stroke engines and significantly reduced exhaust emissions.
Anti-vibration system Intense vibration at the handles of power tools can lead to longer-term effects of blood vessels in the hands and arms. STIHL have therefore developed an effective anti-vibration system where by the oscillations from the machines engine are dampened which significantly reduces vibrations at the handles allowing for more comfortable and safer operation.
STIHL ErgoStart (E) A genuine advance in easy starting. STIHL ErgoStart (E) cuts the effort required to start the tool by half, while the starter cord can be pulled at just one third of the normal force. All it takes is 2 fingers and a gentle pull action.
Throttle lock with built in stop switch The running machine switches off immediately after a brief press of a button. Once the machine is at a standstill, the ignition activates again automatically, meaning it is always ready to start.
One handled control with soft grip area For a secure and comfortable grip. The integrated anti-static system counters electrostatic charging. Catalytic converter Considerably reduces the quantity of harmful particles in the exhaust gas.
Manual fuel pump (Purger) A small fuel pump delivers fuel to the carburetor at the touch of a button. This reduces the number of starting strokes required following extended breaks in operations.
Available for order here:
http://www.londonpowertools.co.uk/petrol-products-c/blower-c4/stihl-bg86c-e-blower~stitbg86c-e#.VO2pHnysVps