---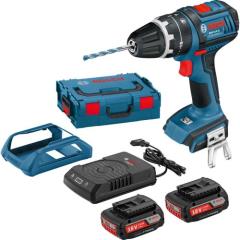 The shortest 18 volt endurance runner with impact drilling function. Always ready to use thanks to new Wireless Charging System.
Extremely compact due to short design (only 195 mm) and lower weight for perfect handling.
Convenient: the Wireless Charging System integrates charging into the workflow.
Robust: GAL 1830 W – durable against dust and water due to closed design (no contacts)
Bosch Electronic Cell Protection (ECP): protects the battery against overload, overheating and deep discharge.
13-mm Auto-Lock drill chuck.
Integrated LED light for illuminating the work area, even in dark places.
Motor brake for precise work when driving rows of screws.
Practical belt clip for conveniently hanging the tool on a belt or ladder.
Ergonomically shaped handle with slim circumference and softgrip covering for low user fatigue.
Supplied with:
2x 2.0AH Battteries, GSB18VLIN, 1x Wireless Charger