---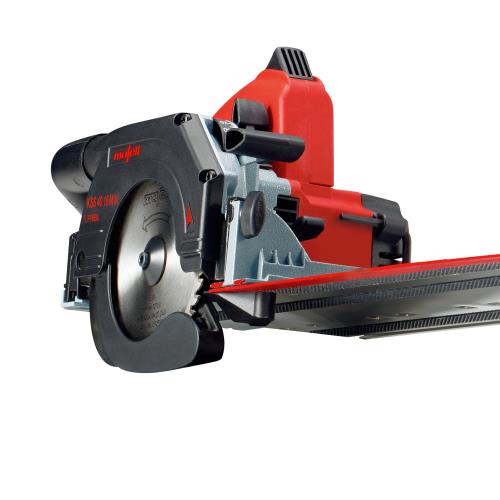 Building on the success of the KSS 300, Mafell have brought to the market a tool which combines the power, perforamce and conveiance of some of the most popular power tools in the trade. It combines the uses and benefits of a Mitre Saw, Plunge Saw and Circular Saw - and now its not only half the size of most of the above, but its also cordless!,,
Cross Cutting System - in more ways than one
.,The KSS is known as a 'cross cutting system' which is a term that may seem unfamiliar but it will get used more and more over the coming years. In this sense it references the KSS 40s ability to do every 'style' of cut that either a circular, plunge or mitre saw can do along with its built in guide rail which comes ready attached.,,With adjustable stops either side the guide rail, it can be set to allow the KSS 40 to cut at an angle from -45
0
to +60
0
. These stops can be left at your desired angle or adjusted in the blink of an eye. This gives you the ability to create consistant cuts the the same angle and with the portability of the saw it means duplicate cuts are fast and easy no matter where the material is.
It can also be beveled of to an angle between 0 and 45
0
so you are able to make angled cuts as well as beveled cuts. - Somthing that is quick and easy with the KSS 40.
You can also PLUNGE with this saw. If you don't want to start you're cut from the edge of you material as you would need to if you were using a circular saw. The KSS 40 18M bl has a unique function that allows you to get the saw into position before you cut, then you can plunge down into you material and cut exactly the whole/space you need. - Perfect for cutting out sinks in a worktop.
Adjust to you and your job.
Just because this saw is able to achieve so much in half the size, don't think that Mafell have taken anything away when it comes to fine adjustment. It still has a cutting depth adjustment, plunge and bevel guides as well as a battery gauge indicator.
There even a sawblade lock, for changing blades and a splinter guard and piviot guard for producing the best possible cuts.
The slightness of the KSS 40 18M bl also comes into its own with sawing shadow gaps alongside wall edges or skirting. The blade is so close to the edge of the saw that cutting a shadow gap at around 13mm is fast, easy and accurate.
Brushless Motor, Batteries and other accessories
The motor itself is a highly efficent brushless motor, which is small, durable and gets the most out of the batteries. It is maintenance free and optimised to increased performance and power.
Being a full system the KSS 40 18M bl comes complete with 2 x 5.2Ah li-ion batteries, which offer incredible run time and performance that matches some AC (corded) models. The batteries hold their charge and can be run flat or charged with energy still left over. The charger will actively cool-down the batteries whilst charging them to. This helps fight against overheating.
Also included in the set is a Fkexi-Guide rail with is an alluminium rail that can curl up and be stored away in the box, or sprung out into shape to give you a large guide rail for longer cuts.