---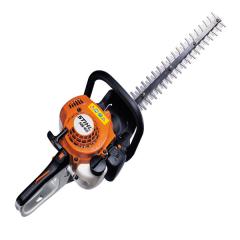 Stihl HS45 Hedge Trimmer
Light introductory model for garden trimming. With Elastostart for comfortable starting. Available in two blade lengths.
Standard features:
Anti-vibration system
Double-sided blade
ElastoStart
Electronic ignition module
Manual fuel pump (Purger)
Technical data:
Displacement 27.2 cm³
Blade length 45, 60 cm
Cutting capacity 30 mm
Stroke rate 3800 1/min
Weight 1) 4.7 kg
Power output 0.75 kW/1.0 bhp
Vibration levels left/right 2) 6.1/10.0 m/s²
Sound Pressure level 3) 98.0 dB(A)
Sound power level 3) 104.0 dB(A)
Available to order, just click the image.